AHA NEWSLETTER & Event Calendar
City of Anniston announces new digital Civil Rights Trail
The Anniston Civil Rights Trail recognizes and remembers key events and significant sites and people in the city of Anniston during the American Civil Rights Movement (1954-1968). Along the trail, visitors will uncover acts of bravery and violence, cooperation and resistance. Today, the trail includes ten historic sites marked with brown and gold historic markers, along with a QR code, that wen scanned by your smartphone's camera, will take you to our new digital Civil Rights Trail. Each digital stop on our trail gives even more information about the people, places, and events that shaped the course of Anniston's Civil Rights history. We invite you to learn about our community's history, struggle and triumph by taking your tour today.
Anniston Civil Rights Trail landing Page: www.annistonal.gov/civil-rights-trail
Digital Trail Markers:
Southern Railways Station
Saint John United Methodist Church
Trailways Bus Station
Greyhound Bus Station
Willie Brewster
Human Relations Council
Desegregation of the Library 
Anniston Memorial Hospital
West 15th Street Historic District
Seventeenth Street Baptist Church
Anniston Civil Rights Trail Media:
How the Anniston Civil Rights Trail was formed:
The Anniston Civil Rights and Heritage Trail Committee first began the Anniston Civil Rights Trail project in 2010 when conversations with local residents revealed that many people were unaware of the events that occurred in Anniston during the Civil Rights Movement of the 1960s. Additionally, many students were not educated on the events or the people who risked their lives to bring about change, as local history is currently not part of the standard school curriculum. The members of the committee concluded that the Anniston Civil Rights Trail project would be a beneficial and engaging way to document Anniston's past, as well as detail the present.
Contributors to the Anniston Civil Rights Trail:
The Anniston Civil Rights Trail was made possible by the City of Anniston, the Alabama Department of Tourism, the Alabama Historical Commission Black Heritage Council, and Jacksonville State University.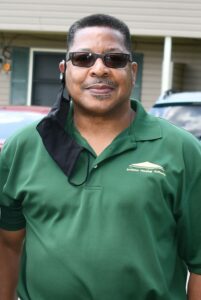 AHA'S Final Farewell to Willie B. "Sonny" McMahand, Jr.
The Anniston Housing Authority is proud to announce the retirement of Mr. Willie B. McMahand, Jr., affectionately known as Sonny. Sonny's official last day will be December 3, 2022, giving him approximately 10 years of service with the authority.
Born and raised in Greenville, SC., Willie B. "Sonny" McMahand, Jr. received his degree in Sociology from Johnson C. Smith University in 1978. Looking for work in his field of study, he landed the position of Inspector at Greenville Housing Authority in Greenville, South Carolina. In the coming years, he also worked for Charlotte Housing Authority and Durham Housing Authority. In Charlotte, he was among the leadership team that transformed three major affordable housing communities.  As the Chief Operating Officer in Durham, NC, he led the agency out of a 'troubled Housing Authority status' and successfully transitioned it to HUD's mandated Asset Management Program. During this time, Sonny furthered his education, receiving additional training and certifications from The National Association of Housing and Redevelopment Officials (NAHRO), Nan McKay and Associates, and the Institute of Real Estate Management (IREM).
In December 2012, Sonny was selected as the Executive Director of the Anniston Housing Authority (AHA) to transform Anniston's Public Housing into communities where people want to live, work, and succeed.  Since then, AHA has achieved high performer statuses in both its Public Housing and Housing Choice Voucher Programs and developed a housing redevelopment strategy for all Public Housing units.
In 2013 Sonny pioneered AHA's nonprofit, Anniston Fatherhood Initiative, where he is currently the Chairman. This nonprofit provides training for men to become better fathers and how they can become involved in the community with their children. The program also assists boys and young men who need guidance in different aspects of life. Sonny has been an extremely impactful mentor to the fathers and children in Anniston. He attends all functions for the program and is very hands on with the direction of the program. As a father of three, all boys, this program is extremely important to him, and he has made a phenomenal effort of helping make this program a success!
Sonny has been an immaculate motivator and leader and has always pushed his team at AHA to strive for the best. He challenges them to think outside the box and always do what's best for the people we serve. From AHA's successful collaborations with other entities, to inspiring employees to further their education, Sonny has always made it a point to aim high! Under his leadership, AHA has embraced a vision and accomplished the following goals:
Board approval of a Development Strategy to implement the repositioning of Public Housing Properties
Collaboration with the City of Anniston, Anniston City Schools on the West Anniston Master Plan
Management Operations Report and Transition to HUD required Asset Management Properties
Cooper Homes fence removal, resident relocation, and demolition
Constantine Homes- renovations, EnVision Center, Landry facility
Successful relocation of Residents from Glen Addie Homes
Hobson City Apartments Renovations
Housing Development Corporation (HDC)- renovation of four units and new construction of two units
Barber Terrace Rental Assistance Demonstration (RAD) Conversion & Redevelopment
Employment Training Center
Family Self Sufficiency Program & Fatherhood Initiative
Resident Opportunities for Self Sufficiency (ROSS) Program
Occupational, Skills and Training (OST) Program
Duly elected Resident Council & Award-winning newsletter
Management of Heflin Housing Authority for 6 years
HUD Real Estate Assessment Condition (REAC) Physical Inspection scores above 90 for six consecutive years
No Audit findings for the last 5 years
Housing Choice Voucher (HCV) Program, Section Eight Management Assessment Program (SEMAP) high performer or standard performer for 9 yrs
Public Housing Assessment System (PHAS) – from troubled to standard or high performer 6 of last 10 years
Newly constructed Website and Social Media outlets
Development of Standard Operating Procedures for all Departments
Installation of Audio Video equipment in four Office/Community Buildings
Purchase of two Vans which includes one handicapped accessible van
Successful award of Safety and Security Grant which allowed for Camera's installation, Carbon Monoxide (CO) detectors and fencing
Following retirement, Sonny plans to return to his hometown of Greenville, SC, with his wife, Vickie Ellis. He is excited for this new chapter in his life, and we here at AHA are grateful to have been under his leadership for the last 10 years!
We thank you for your dedication and hard work. AHA wishes you the best, Sonny! Happy Retirement!